Peel AV – The Technical Experts Behind Our Award-Winning Entertainment
For over six years the Peel AV team has provided technical services across a range of leisure sectors, for an array of major clients. In 2017 we incorporated Fisher Marine AV services into Peel AV with a history of over 30 years of successful marine projects.
Projects have included but are not limited to, full marine technical overhauls and installations, full scale ship launch events and technical fleet management, cementing Peel AV as both an innovative market leader and trusted AV supplier to the Cruise Industry. The benefits of working with Peel AV is that we are able to provide complete AV Solutions – there is no aspect of AV provision we cannot cater for or provide. This works particularly well if The Peel Entertainment Group is providing the entertainment services. This makes both aspects cost effective and super-efficient, ensuring the right technical solutions are found to enhance the entertainment and ship's areas.
This has entailed AV solutions across the board, including – Entertainment PA Systems, Lighting Rigs, Architectural Lighting, Voice Alarm Public Address Systems, Projection (including 3D, Video Mapping and Holograms), Staging, Digital Signage, Indoor and Outdoor Large Format LED Screens, IPTV Networks, VR and Augmented Reality – each element custom designed in partnership with our in-house teams, manufacturers, and most importantly the client, to be adapted and tailored to their specific product and Marine Sector demands.
Although Peel AV have an extensive portfolio of experience in other sectors such as the Museum, Leisure and Educational sectors, it is the Marine Sector which has seen our most diverse and challenging work, with its numerous complexities being a testament to the skillset of our project managers, engineers and technical team.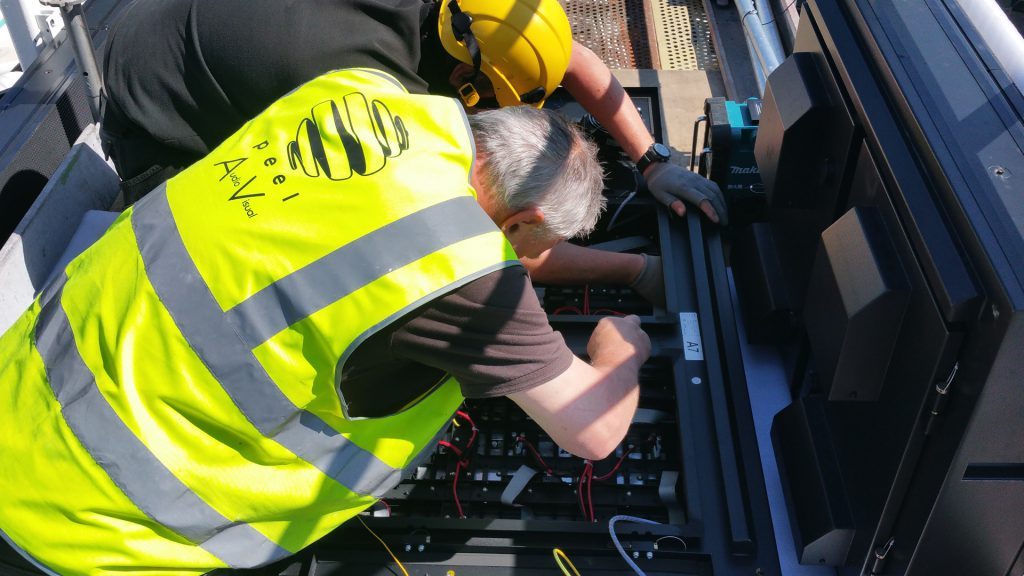 Effective delivery of services require our entire team to also work intimately alongside relevant stakeholders and departments such as IT, Facilities, Health & Safety and Security, working in large events and with clients such Arenas, Cruise Lines and Elite Football Clubs. We pride ourselves in forging strong relationships to ensure work is carried out to premium standards and achieve optimum guest satisfaction.
Peel AV works directly with leading manufacturers and suppliers worldwide in order to ensure we can offer a vast range of services and equipment at the most competitive prices; whether that be from the simple supply-only of consumables and hardware, to full turnkey solutions including re-design, procurement, installation, operation and support.
Our close partnerships with leading domestic and international logistics companies further heightens our edge over market competitors to provide AV supplies swiftly and efficiently, to meet the ever-changing and ever-challenging logistical requirements and stringent timeframes the industry demands.
Benefits of working with Peel AV:
Dedicated Support Service – post completion of any project, the client and required on board staff will be provided with an assigned point of contact and dedicated team members for fluid contact within Peel AV for maintenance and support.
A Skilled Team of Engineers – our team members have worked together over several years now and are highly skilled, highly experienced audio-visual professionals, with specialties in all areas. Our dedication to our work has earned us an excellent reputation and fantastic client testimonials.
A Long-Term Relationship – Peel AV endeavours to not just be a sole supplier, but a long-standing partner for all of our clients, in whatever capacity they may require.
Competitive Pricing – unlike many of our competitors, Peel AV is not tied to agreements which specific distributors and suppliers. This freedom enables us to ensure all products are the best fit for the client and their exacting needs. It also enables Peel AV to be extremely competitive in negotiating and sourcing the best possible prices for our clients. Our source of suppliers includes the UK's leading distributors and extends to major EU, Asian and US manufacturers, Peel being responsible too for breaking new products into the Marine market. This also benefits our support service, knowing we have strong relationships with manufacturers for expert knowledge, technical support and immediate remedial solutions.