Peel AV – The Technical Experts Behind Our Award-Winning Entertainment
We always say that 'behind all Peel Talent's award winning productions and live entertainment shows are Peel AV, which includes some of the best techs in the business…' but what exactly does that mean?
We caught up with Chris Murphy, head of technical at Peel AV to find out more:
"Basically Peel AV is responsible for the on board technical side of all the entertainment provision across a fleet of four Marella cruise ships. From the Broadway show lounge to live lounges, children's entertainment suites and pool deck discos and cinema screens, the ships' AV needs are complex, huge and need to be robust and reliable as they are in consecutive use, for years on end.
We design, install and manage all the hardware on board through our team of 35 technicians who work across the four ships. We also run a commercial division which supplies and installs marine AV equipment to shipping and cruise companies across the world and is one of the most trusted companies in terms of reliability and efficiency in that area.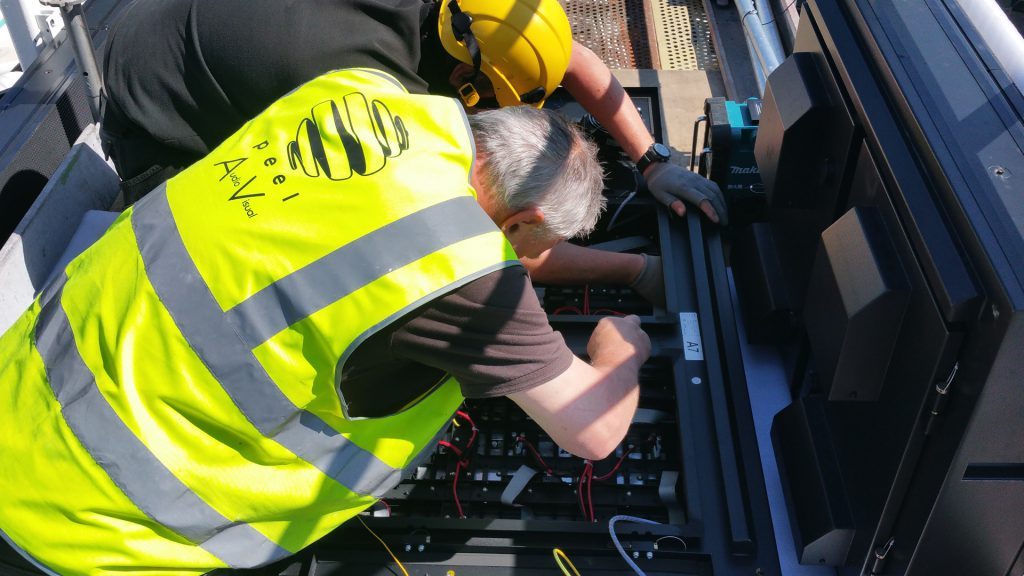 Our job starts with the design of the entertainment areas which we carefully spec out in partnership with the client, ensuring we design in the best multi-purpose lighting rigging and unbeatable sound and visual capability. Flexibility is always key and with on board entertainment now bringing together the real world and the virtual world in unforgettable cutting edge immersive experiences, it is crucial that we also incorporate the very latest AR and VR technology as standard.
Once the designs are agreed we procure everything required and manage the full installation, which happens whilst the ships are in a dry or wet dock. Our on board team of AV technicians then maintain and manage the equipment and systems day to day.
When we did the re-fit for Marella Discovery 2 we installed over 5km of additional cabling and over 70 lights in the theatre. We also custom designed an outdoor 6m x 4m LED screen on the pool deck – which is unlike any other at sea, as it has individual cooling installed for each section of the screen, enabling it to cope with the hot outdoor temperatures. We also installed Marella's first laser show featuring two high powered lasers combined with matching programmed lighting, LED screen visuals and a customised music track.
One of our most recent projects was re-designing the AV for Marella Discovery which saw us replace over 80 lighting fixtures in the theatre, along with the installation of a brand new, modern, arena style line array sound system.
I've worked with Peel for nine years and have seen marine AV change and develop beyond all recognition in that time. I was recently really pleased to be awarded Marella Cruises 'Individual Recognition Award' for my design and installation work on its Discovery and Discovery 2."