Technician Trials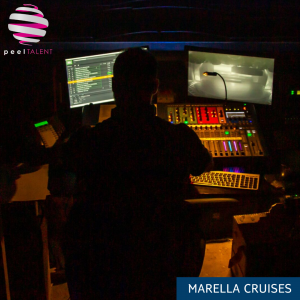 Save the date, Peel Talent's next wave of Technician Trials are coming to Leisuretec, Luton on Thursday 12th September!
…and if you're a talented Technician who dreams of working with the latest tech you could be joining our award-winning entertainment teams travelling the world with Marella Cruises.
Designed to give you a flavour of what it's like working with the most diverse entertainment product at sea, our Technician Trials give you the perfect opportunity to showcase your technical expertise.
The show simply wouldn't go on without our dedicated team of technical experts and with opportunities across four Marella ships roles available include: Senior General Technician, General Technician, Lighting Technician, Sound Technician, Digital Broadcast Technician, DJ Technician, Digital Content Technician, Stage Manager and Backstage Manager.
With contracts starting from 9 months, including food, accommodation and flight tickets along with discounted prices to most facilities on board this is an incredible opportunity to take the next step in your career whilst exploring the world.
If this sounds like your dream career please apply for our Technician Trials on Thursday 12th September by using the 'Apply for this vacancy' section at the bottom of this page, by emailing your CV and Cover Letter to info@peeltalent.com or by calling 01756 796176 to speak to a member of the Peel Talent Team.
For full Technician Trial details including what to prepare, what to wear and what to bring with you on the day of the audition please follow the link below
Technician Trials Essential Information