Technician Trials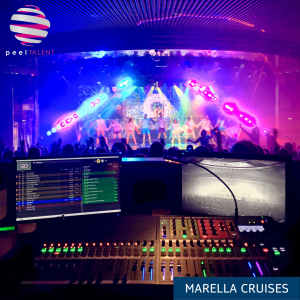 Peel Talent are looking for the next wave of talented Technicians to join our dedicated team of technical experts travelling the world with Marella Cruises.
If you'd like to play an integral part in the delivery of our award-winning entertainment programme we'll be holding a practical assessment day on Tuesday 21st may at Sound Acoustics, Glasgow.
Designed to give you a flavour of what it's like working with industry leading tech, our Technician Trials are the perfect opportunity to showcase your expertise.
Roles available include
Senior General Technician, General Technician, Lighting Technician, Sound Technician, Digital Broadcast Technician, DJ Technician, Digital Content Technician, Stage Manager and Backstage Manager.
The show simply wouldn't go on without the hard work of our Technicians and as part of the onboard team you'll be working with the most diverse entertainment product at sea, which includes more than 11 different full production shows.
Contracts starting from 9 months, including food, accommodation and flight tickets along with discounted prices to most facilities on-board.
Please email info@peeltalent.com to confirm your attendance and also ensure you book any travel arrangements to guarantee that you arrive prior to the registration time stated above.
For full Technical Trial details including what to prepare, what to wear and what to bring with you on the day of the audition please follow the link below.
Technician Trials essential Information